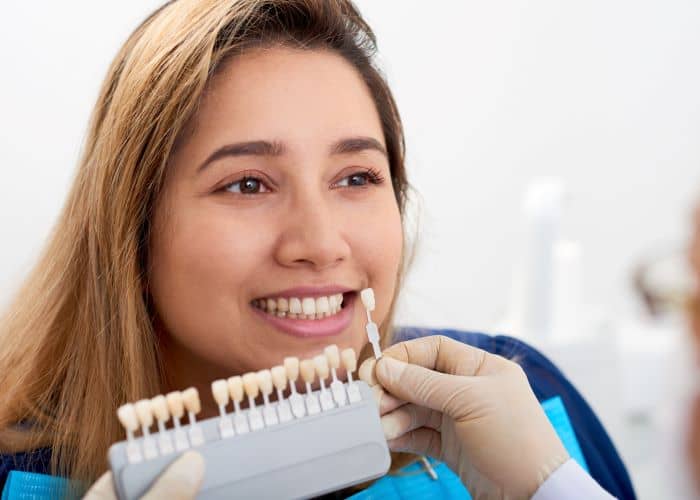 Our dentists may recommend the veneers procedure to restore front teeth with minor chips, cracks, and gaps. Veneers are wafer-thin porcelain shells that we bond to the fronts of your teeth.
Many of our patients report having better self-confidence after the veneers procedure.
Here's what you can expect.
Consultation
First, you'll need to schedule a consultation with one of our cosmetic dentists. During your appointment, they'll examine the inside of your mouth and take X-rays. That way, we can determine what treatment options would be most appropriate for your specific situation.
You may be a candidate for porcelain veneers if you have minor damage to front teeth, such as chips, cracks, or stains. Our dentists may also recommend veneers if you have small gaps between your front teeth that could be closed without orthodontics. To learn more, check out our blog post on the advantages of dental veneers.
If you're not a candidate for veneers, we still have plenty of options to restore your oral health and the appearance of your smile. For example, you may be better off with a dental crown if you have a tooth with a deep crack or cavity. Likewise, we may be able to improve the appearance of a misshapen front tooth with dental bonding.
You can trust our dentists to come up with the best treatment plan for your specific circumstances.
Tooth Prep
If we have determined that you're a candidate for the veneers procedure, we'll need to prep your teeth. This involves us removing a thin layer of enamel from the fronts of your teeth. By doing this, we create space for the
to sit on top of your teeth. Otherwise, the veneers would make your front teeth look large and unnatural.
Next, we'll take dental impressions to send to the lab. From these impressions, the lab will create
that will fit over your teeth to create an attractive smile.
While you wait for your permanent veneers, we'll need to put temporary covers over your teeth. This will protect your teeth until you see us again for your second appointment.
Veneers Placement
When you return for your second appointment, your permanent veneers will be back from the lab. First, we'll need to remove the temporary covers from your teeth. Next, we'll gently etch the surface of your teeth so the veneers can create a strong bond and last for years. Once our dentists are satisfied with how your veneers look and fit, they'll bond them to the fronts of your teeth.
Our team ensures that your veneers look and feel natural so you can smile with confidence. We will always make sure that your new dental restoration seamlessly matches the rest of your smile. That way, you'll be able to enjoy your smile for many years to come.
Related: How to Care for Porcelain Veneers
Learn More About the Veneers Procedure
Interested in getting porcelain veneers? Your first step is to call our dental office. Our cosmetic dentists in Holland, MI, will be able to determine if you're a candidate for the veneers procedure. To request a consultation, call the Lakeshore Dentistry & Implant Center at (616) 399-3946.