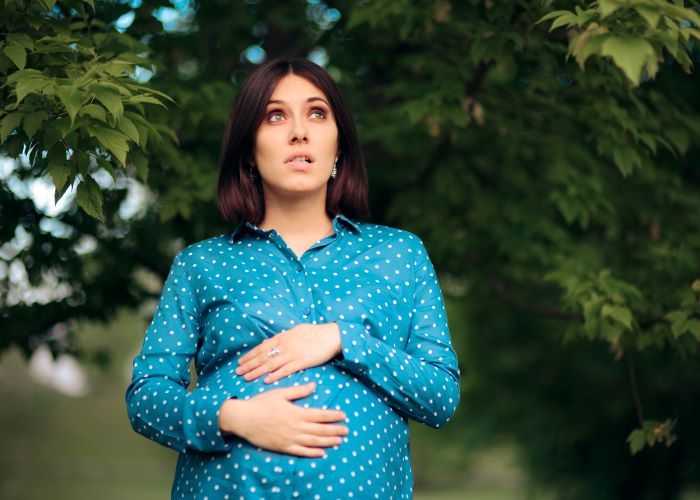 IMPORTANT: Please let us know if you think you may be pregnant. Even if you're not sure, we always want to be as careful as possible when providing care to our patients.
---
Throughout your pregnancy, you've probably dealt with all sorts of unsolicited advice. As a result, you may also worry about the safety of getting dental care while pregnant. We're here to relieve some of that anxiety so that you can maintain good oral health during your pregnancy.
Here's what our dentists want you to know.
You can still get your routine dental checkups.
You may continue to schedule teeth cleanings and oral examinations during your pregnancy. Both of these procedures are completely safe and will help you maintain good oral health. For example, we may be able to spot minor oral health issues before they grow into bigger problems.
Dental checkups are also a great opportunity for you to get oral hygiene tips. Our dentists would be more than happy to answer any questions you may have.
Fillings and local anesthesia are safe.
It's normal and natural to worry about how a dental procedure could affect your unborn child. After all, some medications are not safe for pregnant women. But you can still receive local anesthesia if you need a filling or other minor procedure. We are also able to coordinate with your physician if we need to prescribe any medications.
Dental X-rays are safe during pregnancy.
Both the American Dental Association and the American Congress of Obstetricians and Gynecologists agree that dental X-rays are safe during pregnancy. The amount of radiation exposure is very low and won't affect your child's development in the womb. We also cover your abdomen with a protective lead apron while taking X-rays.
We take every precaution to keep you and your baby safe during your appointment. For example, our office uses digital dental X-rays. This exposes you to 80% less radiation than if we used traditional film-based X-rays.
We can help you with dental problems associated with pregnancy.
During your appointment, let us know of any changes to your oral health. For example, hormone fluctuations associated with pregnancy can decrease your resistance to bacteria. This may then increase your risk of getting gingivitis during pregnancy.
Related: 6 Ways to Prevent Gum Disease
It's also not uncommon for pregnant women to get benign mouth tumors. But there's no reason to feel alarmed as these tumors aren't cancerous. Instead, a pregnancy tumor is a swollen tissue overgrowth between your teeth. It may look raw and have a strawberry-like texture.
The good news is that these
usually go away after you give birth. But a dentist can also remove them if they become too burdensome.
If you experience any of these issues during your pregnancy, please don't hesitate to schedule an appointment with our office.
We may postpone certain dental procedures.
If you need a non-urgent dental procedure, we may decide to postpone it until after your child is born. We're always cautious when recommending
. Our dentists may also coordinate with your physician before recommending treatment. You can trust that our dentists will always prioritize you and your baby's safety.
Request an Appointment Today!
Our family dentists in Holland, MI, are accepting new patients! To schedule an appointment, call the Lakeshore Dentistry & Implant Center at (616) 399-3946.