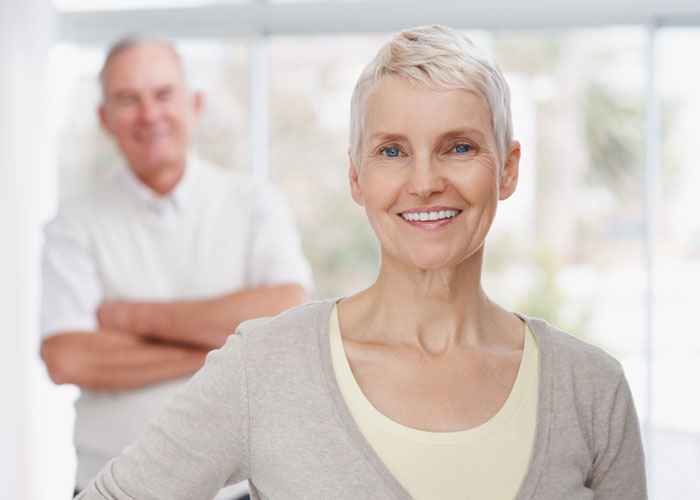 Unsure if you should get dentures or dental implants? You've come to the right place! We understand that it can be difficult to smile, eat, and talk with confidence after tooth loss. That's why we recommend speaking with one of our experienced dentists.
Here's what you need to know about your tooth replacement options.
Dentures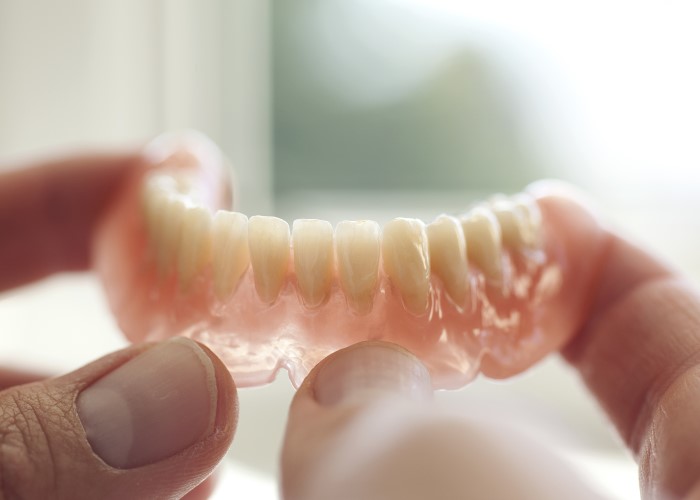 Dentures are an oral appliance made to look and function like natural teeth. Depending on the extent of tooth loss, our dentists may recommend a full or partial denture. While a full denture replaces an entire arch of teeth, a partial denture only replaces a few teeth.
You may also choose between conventional and immediate dentures. As the name suggests, you wear immediate dentures right after tooth extraction.
This means that you won't have to leave our office with any missing teeth. But it also means you'll need to return to our office a few times as your gums heal so we can refit your dentures.
In contrast, we wait to give you conventional dentures until after your gums have healed. To learn more, be sure to check out our blog post on what you can expect when first getting dentures.
Your gums help to support your dentures. As such, you'll need to remove your dentures at night so your gums have a chance to rest. When you're not wearing your dentures, submerge them in a glass of water or denture cleaner. That way, they won't dry out, crack, and warp.
Dental Implants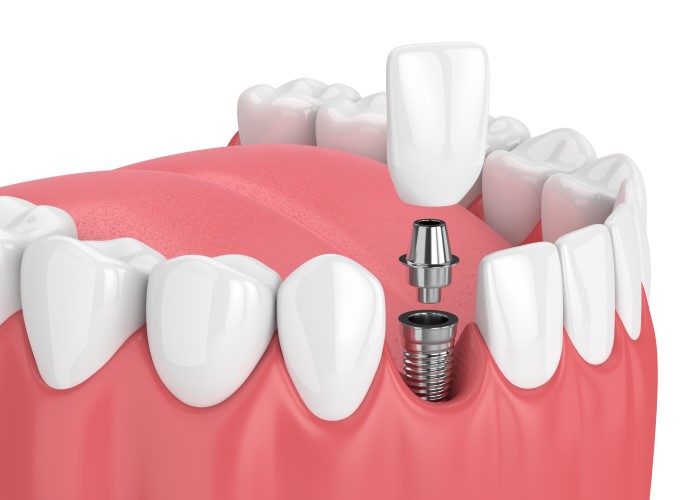 A dental implant is a prosthetic tooth root that's made out of a titanium alloy. Your dentist will place it in the jaw so it can support an abutment and crown. Together, these parts will give you the full appearance and function of a natural tooth.
This means that you'll be able to continue eating your favorite foods with confidence. Unlike dentures that slip, implants are stable because they're embedded in the jawbone.
A dental implant may last the rest of your life as long as you practice good oral hygiene. The better you take care of your smile, the longer your implants are likely to last. This means you'll need to continue brushing your teeth twice a day and flossing once daily. You'll also need to continue seeing your dentist for preventive care.
Are Dental Implants Better Than Dentures?
Dentures are more affordable than dental implants. But they don't solve the problem of
.
As soon as your body detects a missing tooth, it'll start to absorb the minerals in your jaw to use elsewhere. Once this happens, the area of the jaw where the tooth root used to be weakens and deteriorates.
Teeth next to the gap will also start to tilt toward the open space. If left untreated, jawbone deterioration can lead to facial collapse. This condition alters the shape of the face and makes it difficult to wear dentures.
The best way to prevent bone loss in the jaw is to get dental implants. Implants exert pressure on the jaw like natural tooth roots would. This stops the body from reabsorbing the minerals in your jaw after tooth loss.
Dental implants may also be a better option because they don't slip like dentures.
Here's a testimonial from one of our patients who depends on being able to speak clearly as an auctioneer. His dental implants have truly made a difference in being able to speak with confidence.
Am I a Candidate for Dental Implants?
You may be a candidate for dental implants if you have enough bone density in the jaw. That way, you'll have enough tissue to support the dental implants.
If you don't have enough bone density, your dentist may recommend that you get a
. The bone graft would build upon your existing jawbone. That way, there's enough tissue to support the implant.
In general, you may not be a candidate for dental implants if you smoke. That's because smoking inhibits your body's natural healing ability, especially after surgery.
Aren't sure if dental implants are for you? Check out these before-and-after photos from our smile gallery.
Before & After Dental Implants
Request an Appointment With Us
Drs. Ryan Lebster and Jose Vivas are dental implant dentists in Holland, MI. As such, they'd be more than happy to help you explore your tooth replacement options.
Ready to request an appointment? Please call the Lakeshore Dentistry & Implant Center at (616) 399-3946. You may also fill out our online contact form and someone from our office will reach out to you soon.
This blog post has been updated.