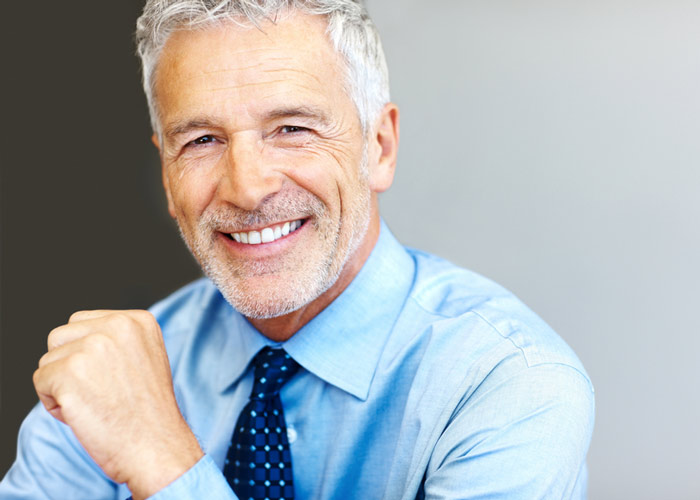 When it comes to Snap-On Smiles®, you may have preconceived notions about what they are and if they really work. For this reason, our cosmetic dentists in Holland, MI, want to dispel any myths so you can make the best decision for your oral health.
As simple as it sounds, a Snap-On Smile can actually yield amazing results that people testify to loving time and time again.
What is a Snap-On Smile?
As the name suggests, a
is an oral appliance that fits over your teeth and snaps into place. Similar to how dentures work, they give you the appearance of healthy natural teeth. You can also wear them to eat and drink, which means you won't have to remove them while you're out in public.
How Does a Snap-On Smile Work?
A
requires no shots, drilling, or change in your teeth's structure. The piece is created to snap on painlessly and easily so that everyone can enjoy their own smile without needing to undergo surgery.
Snap-On Smiles aren't something that will just fall off either, so don't worry about that. Yes, there are instances in which they may come off but those are few and far between and can often be avoided. Snap-On Smiles are not like kid's Halloween teeth but rather they're high quality, professional-grade cosmetic solutions for people looking to create beautiful smiles.
The Snap-On Smile procedure starts with the dentist taking dental impressions. If you have a few missing teeth, don't worry. We can still work with you on forging a Snap-On Smile so that you can once again show your teeth when someone says, "Cheese!"
A proper impression will show accurate margins in your mouth and the heights of your contours for any existing teeth. This dental process should never be rushed and will help ensure that your new Snap-On Smile is just right.
Choose Your Shade and Shape
This is the fun part a lot of people love. You actually get to pick and design your new teeth!
As your local Snap-On Smile dentists, we'll work with you on finding the best design and color to match your oral palate. There are a lot of small variances that require a professional eye to get just right and that's what we're here for. We want you to walk around joyfully showing off your smile to everyone you meet.
Learn More: Can Cosmetic Dentistry Help Me? →
Getting Your Snap-On Smile Fitted
After around one week, your Snap-On Smile will be ready and we'll bring you back in to have it fitted correctly. This process is pain-free and helps ensure that every little detail fits just right and isn't going to budge.
It's not uncommon for your mouth to feel a little strange at first, as something new has been added to it. But in a few days, it'll feel completely natural. While you're in our office we'll be sure to go over some phonetic exercises with you so your tongue gets a feel for your new teeth. These include things like saying, "seventy-seven," "success seeds success," and the classic "she sells seashells down by the seashore."
Tongue twisters are good to practice at home in front of the mirror as well as they'll continue to help you get used to your new smile and give you more confidence when speaking in public with them.
Polishing and Home Care
Once set in place with resin, we'll provide you with simple polishing. This is to make sure your new smile shines bright while fitting snug.
Like other dental options, you'll be able to enjoy normal foods and beverages again with comfort. Be sure to care for your Snap-On Smile like you would normal teeth, though, as leaving food and residue on them can taint their beauty and reduce their lifespan.
At the end of the day, make sure to remove your Snap-On Smile with two hands. Careless behavior can cause unwanted damage or an early malfunction of them. Proper cleaning is also required, which we'll go over with you in our office.
Ready to Smile Again?
Our cosmetic dentists in Holland, MI, would be more than happy to help you explore your treatment options so you can smile with confidence again. To schedule an appointment, please call the Lakeshore Dentistry & Implant Center at (616) 399-3946. You may also fill out our online contact form and someone from our team will reach out to you soon.
This blog post has been updated.